TO KNOW
Below 9 years, children must be accompanied by an adult on the facilities as follows:
6/7 years : 1 adult for 5 children
8 years : 1 adult for 8 children
Climbing park in Labenne Ocean
In the Landes (40) in the heart of the resort of Labenne Ocean, Robinson Park is the largest tree climbing park of Aquitaine.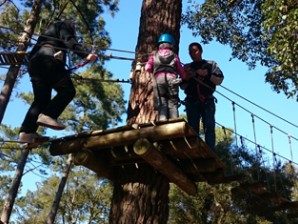 The Robinson Park offers games and sports activities for all ages.

Located 5 km from Capbreton, 10 km from Hossegor, 15 km from Bayonne and 20 km from Biarritz, enjoy a moment of conviviality thanks to our many courses.

A multitude of games and courses are available including several ziplines including a150 meters.
The little ones can have fun on the "green" path while the more adventurous can face the difficulties of course "High Anxiety" and "Commando".

With over 130 games and 13 high ropes course, Robinson Park is the meeting place for the whole family!

Le Parc Robinson it's also trampoline, a shadedpicnic area, refreshments and ice creams
Les parcours du Parc Robinson
4 green slopes accessible to all from 6 years
5 blue runs, it's a little harder
2 red slopes, the real fun begins at age 14
2 black runs reserved for the more adventurous up to 12 meters in height, from 16 years
Instructors and coaching at Robinson Park
At Parc Robinson, we focus on your safety.

The instructors, all holders of Certificate of Professional Qualification in height Acrobatic course equips you and explain the operation at the start of the course. Throughout the circuit, the monitors are there to advise you and help you when they feel this is necessary.
The equipment (harnesses, lanyards, carabiners, pulleys and helmets) is provided by the Park. On your side remember to leave a sports outfit that is not afraid to be dirty. Access to facilities is valid for a period of 4 hours maximum, count on average between2 and 3 hours of activity on the number of courses you want to perform.
Here you are ready for a real adventure for the trees!

Vibrate, recharge your emotions!