TO KNOW
Mini course : 12.00 Euros


From June 26 to September 5, 2021, the park is open daily from 9:30 to 20:00.

A mini-course for toddlers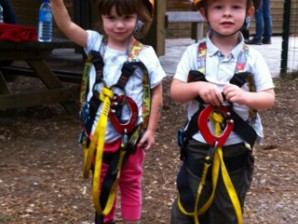 So you can spend a pleasant time with family, Robinson Park has set up a mini-course consists of 2 tracks for children under 6 years can also have fun!

From 3 to 5 years, the mini-course will be an opportunity for your children to the joys of the ropes and enjoy some time close to nature.

To avoid bobo dread and all the mini-course is situated about 1 m from the ground and the children are equipped with a continuous line that makes it impossible to disconnect
Our monitors are present on the course to encourage and help them move forward.